When I think about someone who inspires, I think of my grandmother, "Mamaw".
She was an angel here on Earth, and now she is an angel with God.
Growing up, I thought everyone was close to their grandmothers like I was.  But as I got older, I went to school and learned I was just very blessed.  I actually had a grandmother figure in my life who wanted to be a part of my growth. And the best part…she lived next door.  So I got to "play" anytime I wanted.
She was a genuine woman.  She was a Godly woman.  She feared nothing.  She was the kind of person who wanted the best for everyone, even at her own expense.  I'm sure there were many trials she faced that she never mentioned to any of us because she didn't want to burden US.  I wish often that I was more like her in that way.  I get caught up in today's struggles and sometimes nag too much.  But in my years with Mamaw, I never heard one bad word or thought from her.
I can recall so many sweet memories of my "Mamaw" as a child, with my favorite being July 4th.  It was her birthday and the huge cookout every year.  I got to see her be loved on and shown appreciation by the entire family.  The backbone of our family.  The biggest inspiration I know, to date.
Unfortunately, I lost my best friend when I was twelve years old. But it still remains with me today.  She was the greatest woman I've ever known.  I miss her like crazy, and I can only hope to be half the Christian woman she was.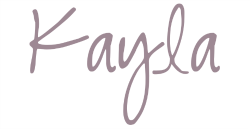 Kayla is our MSWB "go-to gal!"  She pretty much helps Megan with anything and everything she needs or forgets to do!  You can keep up with her life and her wedding preparations on her blog Keeping Up With Kayla. Her blog is her outlet to put memories, crafts, and recipes out there for a good walk down memory lane one day!  She doesn't claim to be a chef, a fashionista, or even really creative.  She's just Kayla…a small town girl who likes to have fun and enjoy life.