here are so many neat apps out there.  From putting a filter on your favorite photo to helping you memorize scripture, and creating your own signature to tracking your monthly cycle, apps help us wherever we are, whenever we need it. Here are a few of my favorites:
This is an app to help you memorize scripture.  you can choose what verses you want to memorize.  it will quiz you in several ways: fill in the blank, recite it aloud, type the first letter, type it out, and having a word bank. there are multiple levels on each quiz.  Though it is $2.99 for the app, the website is free.  The only downside to that, is there is no quizzing on the website.
How can a young man keep his way pure? by guarding it according to your word. –psalm 119:9
This app allows me to create original work with my own photos.  I can add text with various fonts and filters to my photo.  The reason I like this app in comparison to some other photo editing apps is because there are SO many different combinations you can create.   You can even specify the dimensions of you photo to fit your Facebook cover photo!
Have you ever wondered how some people get a cute signature at the bottom of their blogs?  I did. so I started googling how to make a signature.  I ran across "my live signature" and loved the ease of access and the variety of fonts.  You can ever create your own font if you are up for it.
In order to make my collages, picmonkey photo editor is my go-to app.  There are several customizable layouts you can choose from.  Though picmonkey does not have an app yet, one is in the works! What other app can you fit 25 square photos in a layout and it still look organized and modern?
YNAB stands for "you need a budget" and who doesn't need one?  This app has been so beneficial for Mark and I to keep accountable on our finances.  We did a free 30-day trial.  We saved over $200 in the first month simply because we could SEE where the money was being allocated too (too much coffee…too much chick-fil-a….too much frivolous "must haves"). Needless to say, this was a LIFE-SAVER!  There are free, LIVE web-inars for you to see how to set up your personal information to track your finances.  We bought YNAB after our 30-day subscription expired.  It was worth it.  YNAB syncs to our bank statements (optional), dropbox, cell phones, and iPads.  Click the link if you want to download YNAB for your
FREE 30-DAY TRAIL
.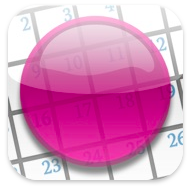 I love this app.  It tracks your monthly cycle, uses data to predict your future cycles, shows you your fertile days, and gives you the ability to track your symptoms, weight, love connections, and length of cycle.  After about a year of using this app, I start my cycle within a few hours that the app says I will.  pretty neat.  It gives me notifications, and I never have to worry about it.